I debuted my Alphonse Elric armor at Anime Los Angeles 2014 to assemble a Full Metal Alchemist group with a few of my friends. All in all, it took about 2 months to finish Alphonse taking my time. As with most of my cosplays, the armor was made out of foam with my usual method of sealing and painting which you can read about here: How to Seal and Paint Foam Armor for Cosplay
Materials
**For Patterning**
**For assembling body**
**Sealing and painting**
**Electronics**
Step 1: Patterning and Assembling
1) Instead of going through the time consuming process of freehanding the entire armor (which you can read about my method here: How to Freehand Patterns for Cosplay Armor), I found a pepakura pattern off google to use as my base. I'm not sure who made it, but it was actually made to make a small "toy size" pepakura model.
2) Since this pep model was made in toy size, I increased the scale to the max which put the model at about 6'4″ in height.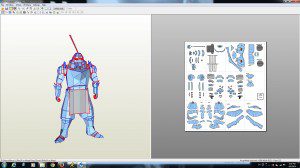 3) I printed out 1 limb at a time and cut out each of the pattens (upper arm, lower arm, shoulder, etc) since printing them out all at once would be like over 100 pages
4) If I didn't like how the pattern looked, I modified it manually till I was happy with the result. Basically I used my freehand method to modify the existing file.
5) Once I had the patterns done, I traced them onto foam, cut with the proper angles, then hot glued everything together.

Step 2: Seal and Paint
1) I used my usual method of sealing and painting which has more details here:
How to Seal and Paint Foam Armor for Cosplay



2) I searched all over for a paint to come close to the anime reference pictures and I ended up with a metallic blue/tealish automotive paint by Duplicolor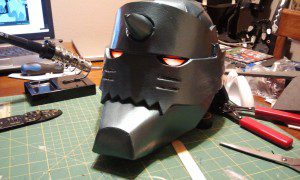 Step 3: Electronics and Voice System
1) So to give my Alphonse armor a little different edge, I wanted to be able to take off my head and have my voice come from the helmet which you can see here:

2) I attached an amp to the inside of the helmet and hooked up the wireless receiver to the amp.
3) I wore the wireless mic and put the transmitter in my pocket. Easy and good to go.
4) For the LEDs, I made eye boxes out of foam, and used red mylar folder to diffuse the light.
And that's pretty much it! You can always check out more pics on my facebook page:
Otaku and Fit – Andrew's Cosplay/Fitness/Otaku Life
Any other questions, please let me know.